Short Ribs. Smoked, then Braised
OK, I will admit right off the start that this is not my recipe. But it's BBQ. I mean, for God's sake, how original can things get. But, this was pretty darn good. And, I happened to snap a few photos, so here we are.
Beef short ribs are typically braised if you don't have a BBQ. So, what happens if you do, but you still want to enjoy the tenderness that this technique adds to this cut of meat? You do both. And that is what this recipe calls for. With all thanks to Malcom Reed (Howtobbqright.com).
I grabbed 15 short ribs from Central Market. Brought them up to room temperature. For those that needed it, I trimmed away the excess fat - maybe about half of them. They were all then treated to a coating of BGE all purpose rub. And on they went. The Big Green Egg was set at 265 degrees. And this temperature was controlled by a Flame Boss 300. Here they are, ready to begin Stage One of their journey.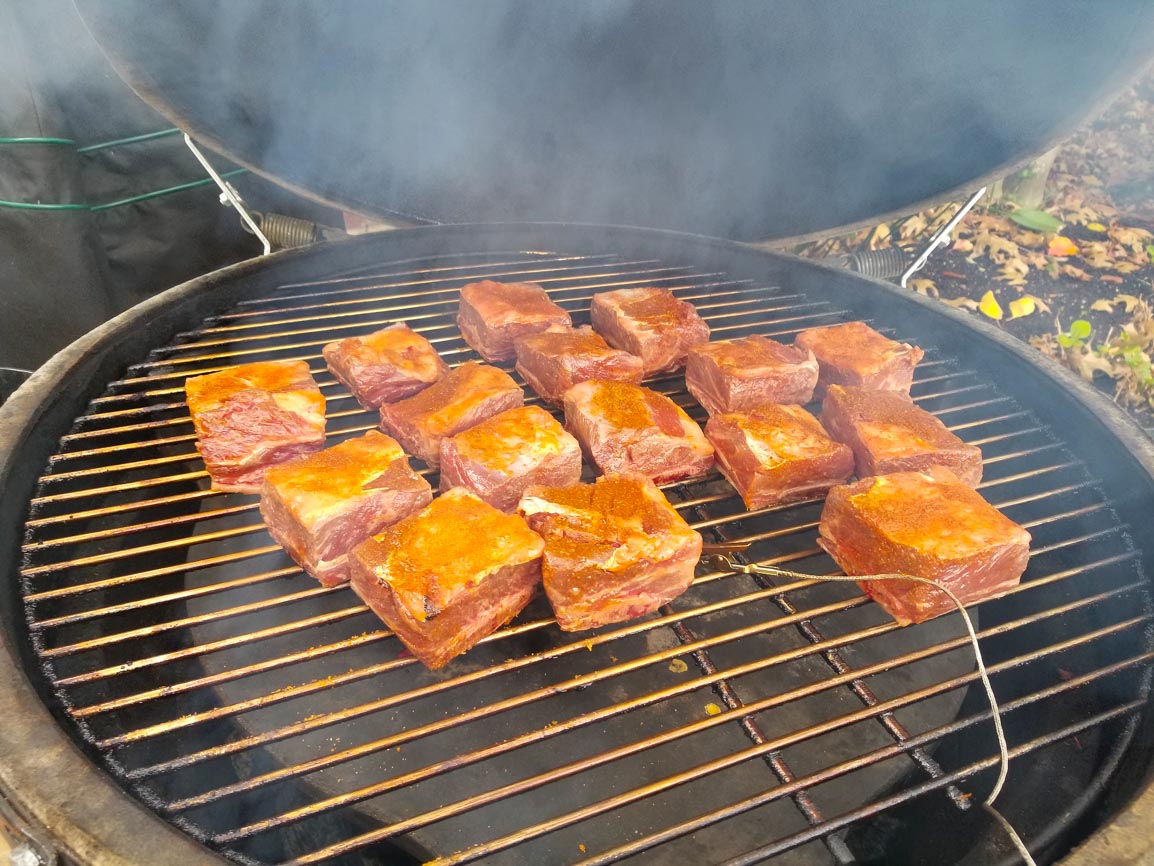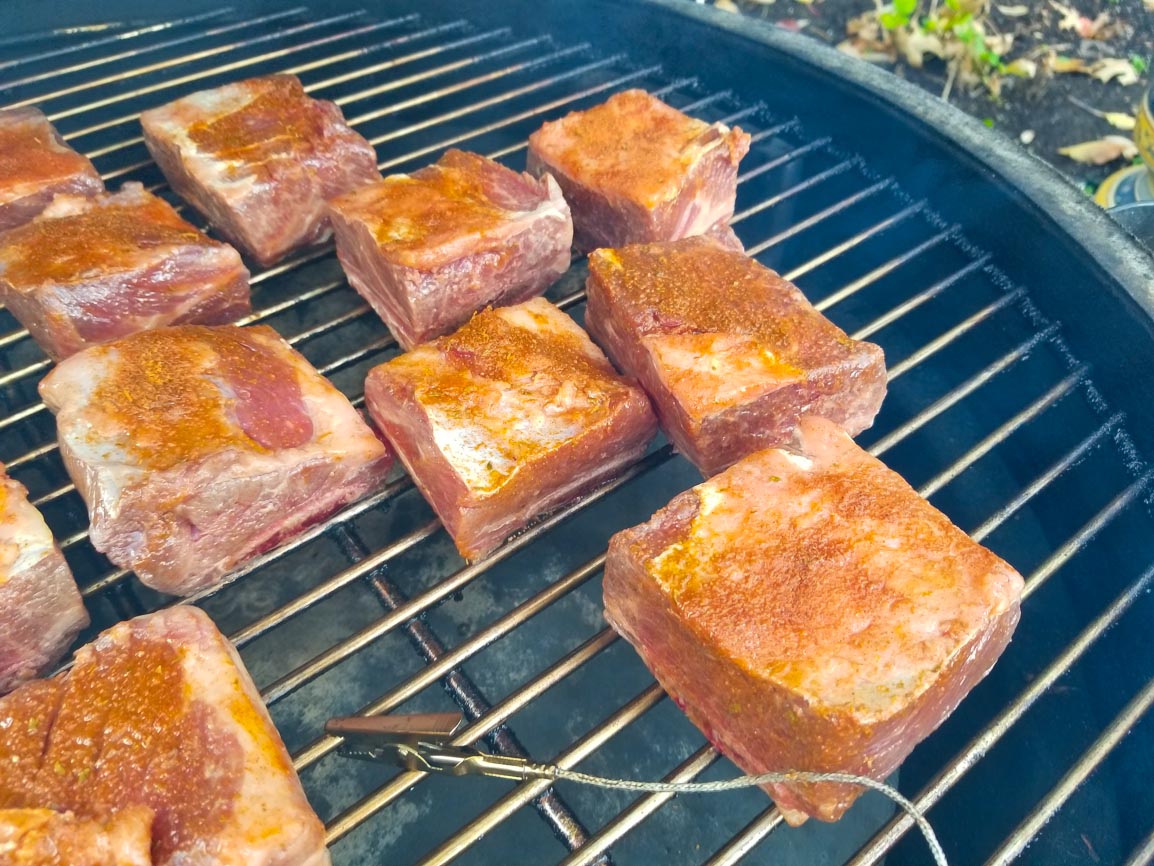 For the next three hours, they smoked away with hickory providing the flavor. I didn't even peek, which is uncharacteristic of me. I usually open the lid after an hour or so just to see how things are going. But, I did after three hours, and this is what greeted me. Hoo boy......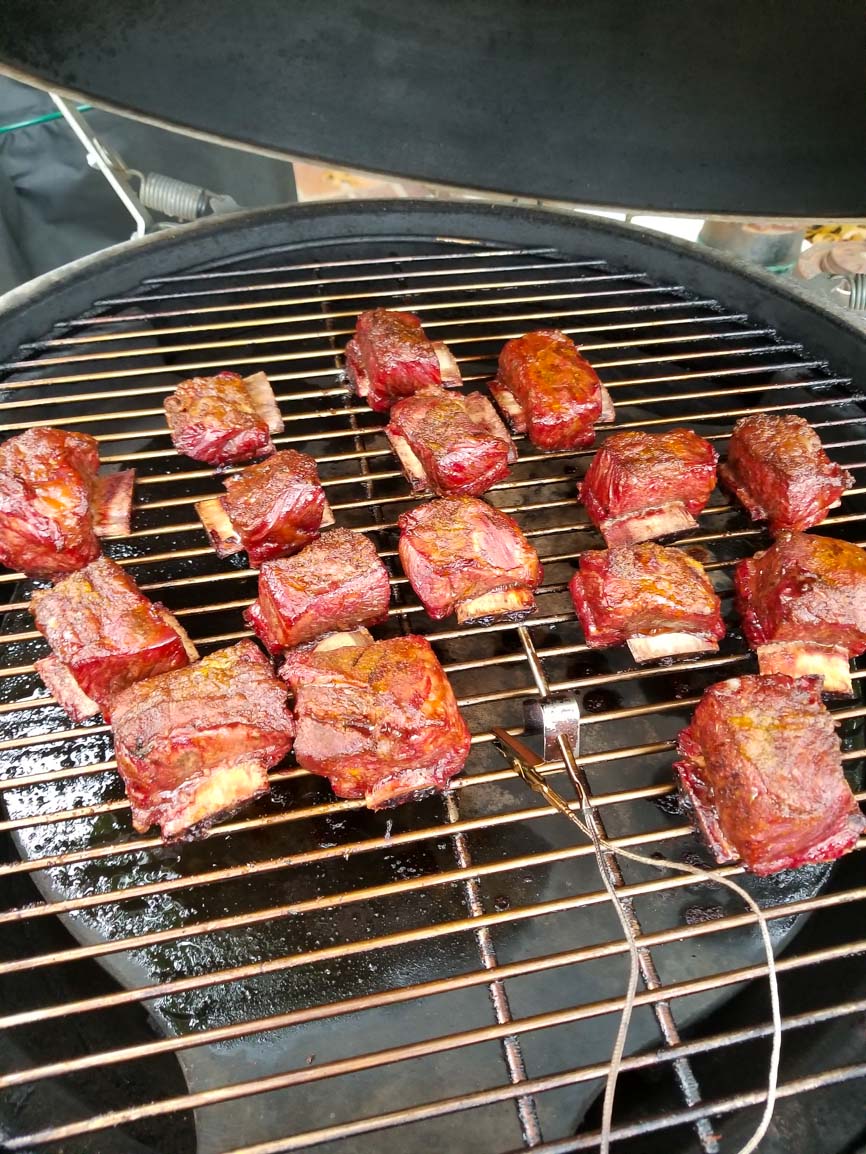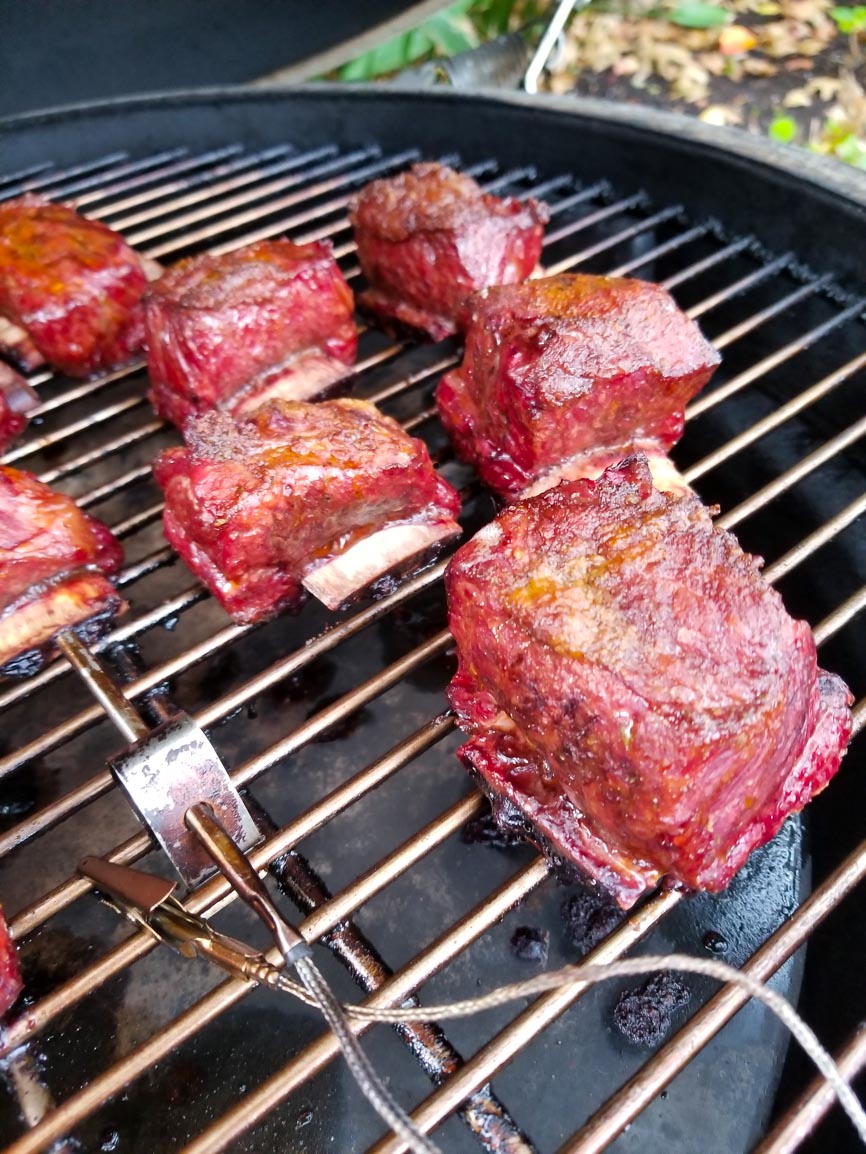 Dayum..... They looked and smelled good enough to eat right then and there. Beautiful mahogany color, which is what you want. But, company was not showing up for another 2 hours. And they had Stage Two to undergo.
I pulled them off and put them into an aluminum pan. Into the pan I added a braising liquid that was comprised of beef broth, red wine, onion, carrots, celery, bay leaves, garlic. I covered the pan and put them back onto the Egg and increased the temperature up to about 300. There they sat for about 90 minutes.
Ellen carried them inside where she put them onto the serving plate and into the warming drawer. The broth was strained into a pot where it went onto the stove and reduced by about half. It formed a delicious gravy which went over mashed potatoes and a small dollup onto the ribs.
Bottom line? Excellent. The flavor was fantastic. Great smoky flavour but not overpowering. I wish I had braised them a little bit longer. They could have been a tad more tender. But, they were cut with your fork tender, so that's good enough for me.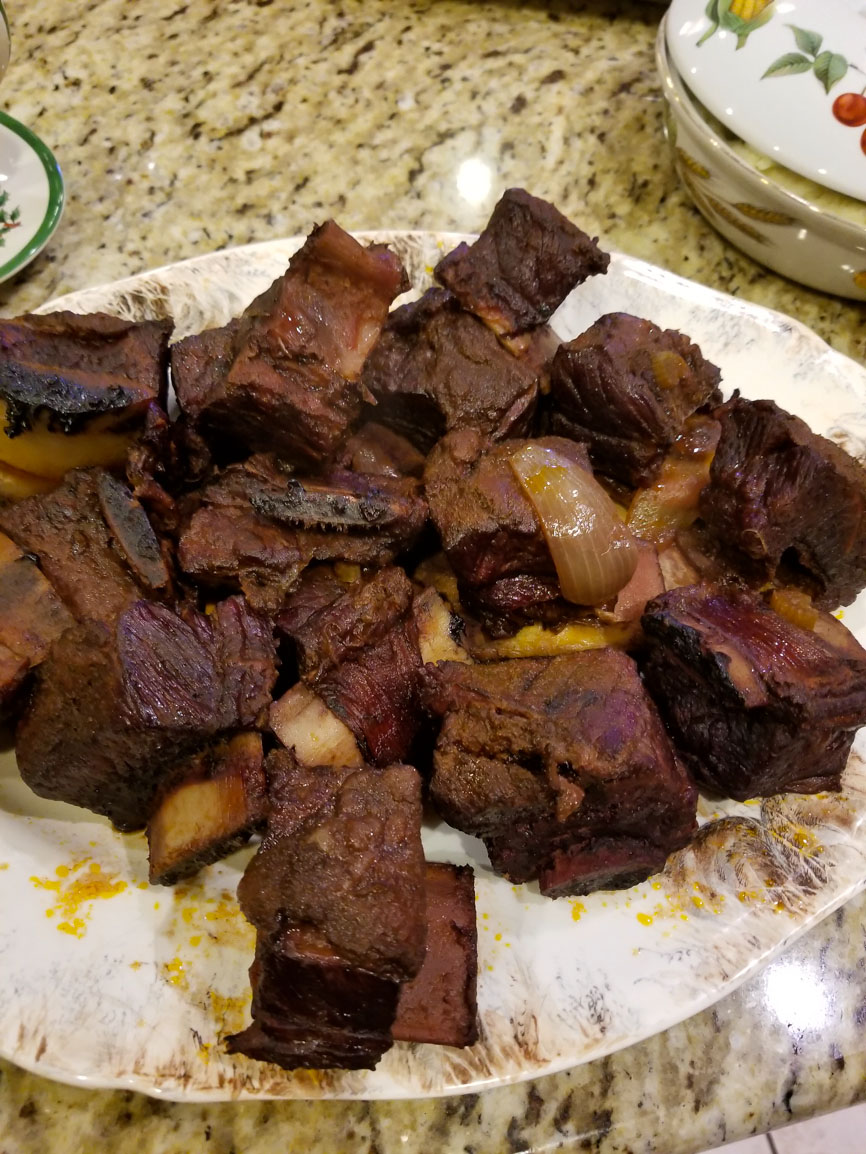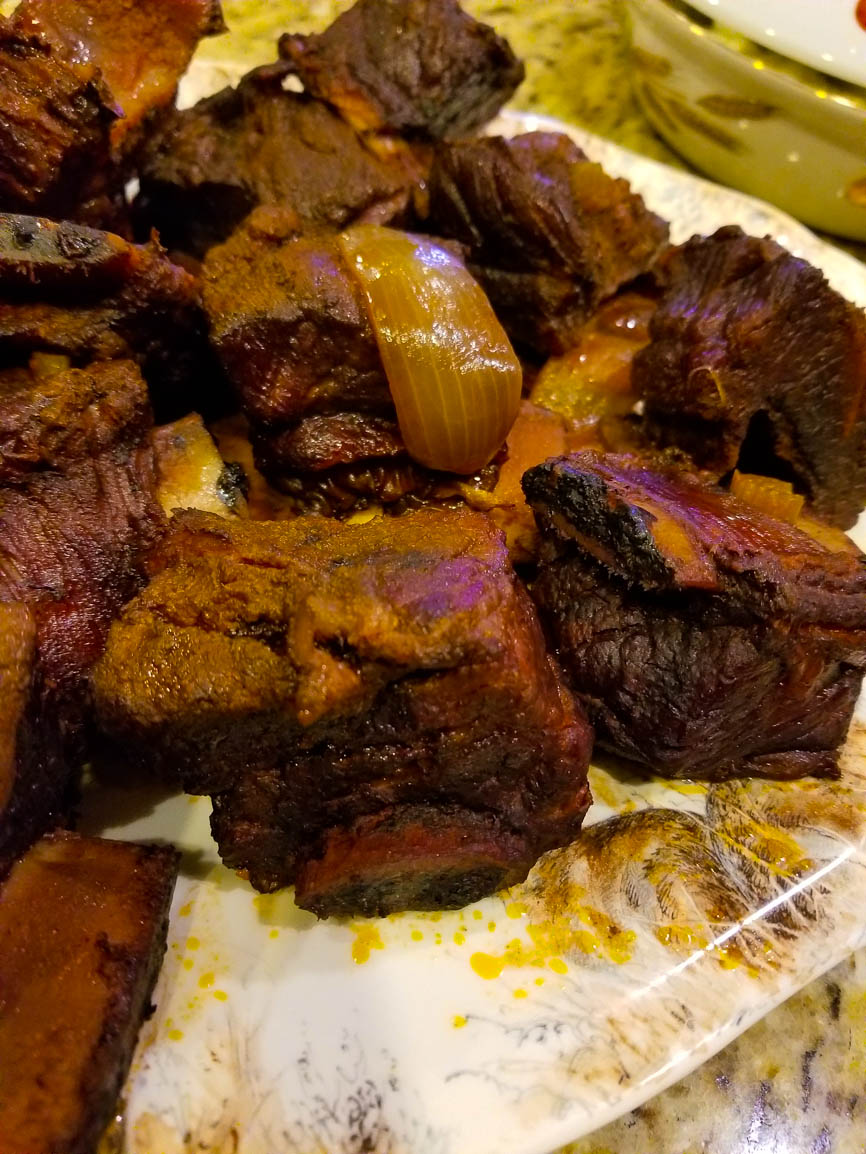 Dinner was with some good friends and a damn good syrah. This is on the books to repeat again.
Two lessons learned.
1. 3 per person is enough. I ordered 15, 4 for guys and 3 for girls with an extra. Too many.
2. Braise for a total of 2 hours. The last 30 minutes counts.