Baby Back Ribs
(I want my baby back, baby back, baby back...)
OK, I know there are a lot of you who want to slash your wrists when you hear that song. But there are also a lot of you whose mouth starts to water like an overheated St. Bernard. It's like a waterfall, in case you want to know.
I had never done ribs before on my egg. But my son was in town, he has an egg and the concept was quickly adopted between the two of us. I opted to go the 3-2-1 method. Three hours of smoke, two hours wrapped up in foil and one last hour on the egg.
Bottom line, this was a major score. Out of the park. OOoo yeah baby.....
I started with two pack of cryovac sealed baby back ribs from Central Market. I coated each with a light coating of mustard followed up with a light dusting of Kent Rathburn's BBQ Rub. Not too much as it is pepper intensive and with pork you want to focus more on light and sweet.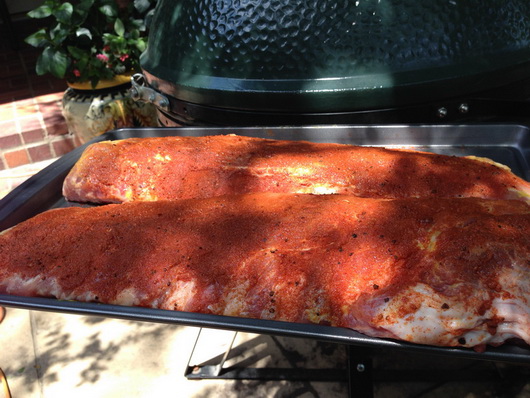 The egg was trying it's best to have a dome temp of 290-300, and I wanted it closer to 240-250. I kept closing the vents until there were literally just cracks, both top and bottom. But, the egg settled in at 240 and stayed there.
After three hours, the racks were pulled from the grill and put into a basket of heavy duty aluminum foil. We poured a little apple juice into the basket and sealed it up. But, I must admit that, even at three hours, the ribs looked good enough to eat.
After two more hours, we pulled the ribs from the baskets and returned them to the grill. Honestly, they were probably ready to go. But, I wanted two things: first, stay true to the 3-2-1 method, and second, get a coating of BBQ sauce on the ribs.
Following the last hour, we pulled them inside and let them sit for a few moments while we got the rest of dinner ready to go. Both the corn and the broccoli were cooked on the egg, so this meant very little clean up for Mom!
The results were amazing. The meat was very tender, but not mushy. It pulled away from the bone with a little tug, and when it did, the bone was clean as a whistle.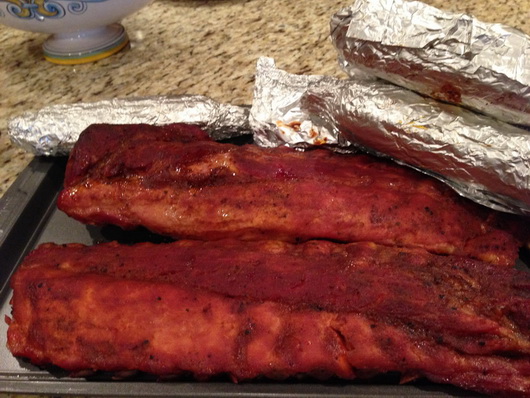 Note the absolutely beautiful smoke ring in the shot below. Many smokers, as in people, make this a target of each cook. On brisket, it's an absolute must to have a smoke ring. It's not as prevalent with other meats, but it was nice to see it show up with this cook.